Welcome to the Terrace, Madison's Largest Outdoor Restaurant
What to Know about Visiting during our Initial Reopening
The Memorial Union Terrace will open for the 2020 Terrace season on June 22 with the beautiful lake view and Terrace chairs you love as well as some temporary, new practices.
Let's rewind to March. At the Wisconsin Union, we never stop talking about Terrace season. Creating months of outdoor programming, dining and safe operations takes year-long planning. Just as we began to think about an opening date, a pandemic broke out across the world. Because of this, Memorial Union and Union South temporarily closed.
Fast-forward to June. Now, our iconic lakeside destination is ready to open with the same great view, iconic sunburst chairs, great summer food, and dedication to making your experiences for a lifetime possible.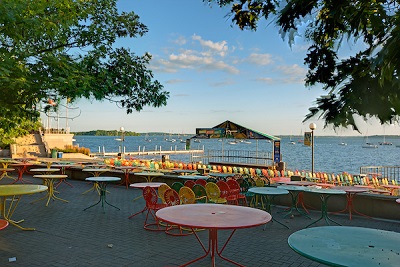 Here are some things to know about the start of our 2020 Terrace season:
Terrace Table Reservations

In order to visit, you will need to use the free OpenTable service to make a reservation for a specific time on the Terrace. A reservation guarantees your spot at the Terrace, weather permitting. Reservations are for 1 ½ hours and can include up to six guests. The Terrace will be open daily 3-10 p.m. This reservation system helps ensure that we remain at no more than 25 percent capacity to align with public health guidelines and allow for physical distancing. To learn more about reserving your Terrace space, visit terracesummer.com.

ID or Guest Pass


During the initial reopening, University of Wisconsin-Madison students, staff and faculty; Wisconsin Union members, Wisconsin Alumni Association members; and active duty U.S. service members can make a table reservation at no extra cost. Other patrons can purchase a $5 one-day pass to make a reservation. One ID or guest pass is needed per reservation.

Since the Wisconsin Union began more than 110 years ago, we have been a membership organization. Membership helps us make experiences for a lifetime and student leadership opportunities possible. All community members and visitors can purchase an annual or lifetime Wisconsin Union membership. This is the only form of membership that provides patrons with access to Memorial Union and Union South. Wisconsin Alumni Association members' Terrace access is a temporary practice during our initial reopening.

It's Always Sunny on the Terrace
Sunny days are made for Terracing! In our initial reopening , we will only open the Terrace restaurant in good weather.

Even when it's raining on our Terrace parade, we will still offer pick-up dining options through Meals To-Go. (Tip: If you haven't tried a Strada pizza yet, you are in for a treat. It's made-to-order, crispy on the outside, just the right amount of fluffy on the inside and has generous toppings.)

Note: We will provide access to restrooms on the first floor of Memorial Union.

Food and Beverages


While dining at the Memorial Union Terrace, you can purchase multiple types of food and beverages through Grubhub. Our team will deliver your order right to your dining area. Dining menu options will be available from der Rathskeller, the Brat Stand, Strada, Carte, Peet's Coffee, the Daily Scoop, and Badger Market.

A food or beverage purchase is required. We greatly appreciate patrons' purchases of food and beverages during their visits, as these purchases help support student leadership opportunities and our ability to provide experiences for a lifetime.

No carry-in food or beverages are permitted at this time, but you don't want to miss out on the Terrace dining experience anyway! Are you even at the Terrace if you don't have a brat?

How We're Helping Keep you Safe


Some new Terrace operations practices for health and safety include exclusively cashless payments, not permitting outside food or beverages, the placement of additional hand sanitizing stations, not permitting the moving of tables or chairs to ensure physical distancing, seating available by reservation only, food and beverage delivery to patrons' seating areas, the removal of self-serve condiments and beverages option, the requirement that all Union team members wear face-coverings and gloves, reduced capacity to provide at least six feet of distance between seating areas, and scheduled cleanings of seating areas between reservations.
More information about how to make the most of your 2020 Terrace season is available at terracesummer.com. On behalf of all us at the Wisconsin Union, welcome back to the Memorial Union Terrace, Madison's largest outdoor restaurant. We can't wait to serve you.