Trustee Stories: Sharon Hadary
By Mason Muerhoff '18
S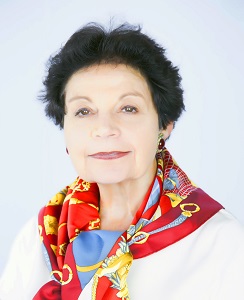 haron Hadary, a Wisconsin Union Association trustee, says this of the Wisconsin Union, "As a student, I developed a strong connection to the Wisconsin Union as my campus living room and as a place to learn and grow."
Her sentiment is one that is shared by millions of people across many generations of Wisconsin Union members and community members who consider the Union's Memorial Union and Union South their homes away from home at the University of Wisconsin-Madison. As an Association trustee, Hadary is committed to ensuring the Union's legacy flourishes for generations to come.
The Wisconsin Union Association that Hadary helps govern is a nonprofit, educational corporation representing more than 90,000 Wisconsin Union lifetime members. Its mission is to support the Wisconsin Union as the heart and soul of UW-Madison. The Association's members do that by sharing their expertise, life experiences, philanthropy and connections.
Hadary initially became involved with the Wisconsin Union when she attended UW-Madison from 1959 to 1964. During that time, she chaired the former Wisconsin Union Directorate (WUD) Literary Committee. She says her experiences at the Union taught her to believe in herself; set high goals; and find a way to accomplish her dreams, a lesson that still guides her work and life.
Today, 10 WUD committees still help plan thousands of experiences across campus each year, including hundreds of live music performances and dozens of art exhibitions.
"As trustees, we support the Union in providing these same experiences to generations of students, creating leaders for a world of change," Hadary said.
Hadary's time at UW-Madison actually began long before she attended the university as a student. She was born at UW Hospital to her parents Doris and Gideon Hadary, while they both worked to earn their doctorate degrees from UW-Madison in chemistry and agricultural economics, respectively. Her childhood was spent traveling the world with her parents, her two sisters and her brother.
Sharon earned her undergraduate degree in psychology. She went on to earn a master's degree in industrial and labor relations from Cornell University and a DBA in organizational behavior from the George Washington University.
Her career brought her to IBM, where she worked for 20 years before starting the Center for Women's Business Research, a nonprofit research institute that is credited with opening up access to contracts and capital for women entrepreneurs. Today, she teaches and writes, focusing on leadership and change.
As a Wisconsin Union Association trustee, she has the opportunity to use her experiences, knowledge and connections to continue the Wisconsin Union's legacy and support its role as the Division of Social Education at UW-Madison.
"I believe every one of us who is affiliated with The Wisconsin Union Association, wherever in the world we live, can be part of continuing the magical Wisconsin Union legacy," Hadary said. "It is simply about asking, 'What can I do to enhance this amazing social education experience?'"
To learn more about the Wisconsin Union Association and the Association's trustees, visit union.wisc.edu/wisconsin-union-association.