Behind the Scenes at the Union: Sarah Calvert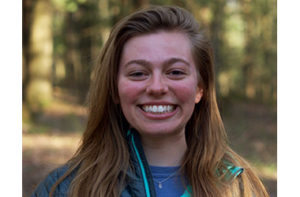 While you may know about Outdoor UW at Memorial Union, including its abundance of rental equipment and endless outdoor classes, there are some pretty amazing student employees and volunteers who make it all possible. One of these students is 22-year-old Sarah Calvert, who, while preparing for physical therapy graduate school, teaches yoga classes for Outdoor UW. Teaching both Terrace yoga and stand up paddleboard (SUP) yoga, Sarah finds time each day to get outdoors, stay active and help others find their om.
When did you begin doing yoga?
I started doing yoga my freshman year. My mom told me I needed to find some sort of stress relief so she signed me up for Rec Sports, and I started doing classes there. I met a lot of cool instructors, and they said they were hiring and had an in-house training program so I tried out and got hired. I did my training spring semester of my freshman year and started teaching my sophomore year.
What was your involvement with Outdoor UW like throughout your college career?
I was initially hired as a SUP yoga instructor. We, at Outdoor UW didn't have a program yet, but we just knew that we had paddleboards and that it was a cool idea. I also led paddling led lessons and worked in the boathouse. Then, I just slowly got to know the office, and I started working in the office. I worked there for the rest of my college career. The following year, I sort of got the go-ahead from the Wisconsin Union to start the SUP yoga program, so 2016 was its first year.
What makes SUP yoga special?
There's no room to not be in the moment. In a studio, your mind can wander, you can be preoccupied with what you're thinking or what you have to do later that day but when you're on a paddleboard, as soon as your mind starts to wander, you fall off and then you're back in the moment again. I like that it has that default of bringing people back to what they're experiencing. Also, it's just a super different practice. I think a lot of people think we just take a regular studio practice and put it on a paddleboard to make it harder but that's so not the case. There's fresh air, and the movement of the board really helps us get deeper into poses.
Do you have any words of wisdom for those who may be hesitant to try SUP yoga?
We've got people who haven't paddleboarded before and we've got people who have never done yoga before, but it's a slower practice. We stay close to the board, and we really do try to work through things together. The worst case scenario is that you fall in the water and get a little wet on a hot morning. I think the biggest hurdle for so many people is that it's so many new things all clumped together. You have to come to Outdoor UW, which is maybe a place you haven't been before, and you've got to get into an activity you've maybe never done before or maybe two activities you haven't done before. My biggest piece of advice would just be to come with an open mind. Let go of what your expectations are for how you're gonna do. Just know that the instructor is there for you, the whole class is there for you, and it's gonna be a good time for everyone.
What are some of your aspirations, whether that be with Outdoor UW or otherwise?
The driving force of my career path right now is that I really love helping people figure out how to move their bodies and work with their bodies. And I think we live in a society where people are sort of tied to a desk chair all the time and can't get outside as often as they'd like to. But then there's this weird gap where people don't quite know how to fix it. So, my biggest aspiration is to help people get over that hurdle.
What is a typical day like for you at the Union?
I don't think there is a typical day with Outdoor UW. It's always different and always fun. I think a typical day would be showing up pretty early in the morning, a lot of times right after the sun comes up and getting my class set up whether that's Terrace yoga or SUP yoga. I pull out boards or get mats ready to go and then round up my participants who sometimes are wandering all over the lakefront. And then I go over a brief intro before I begin each class. I'm usually here and back again three times a day. I'll come here for yoga, leave, come back for work or just come back to paddleboard on my own. I like to come to Memorial Union for windsurfing and sailing, too.
Sarah Calvert graduated from the University of Wisconsin-Madison in 2016 with bachelor's degrees in English literature and economics. She is currently a graduate student working towards her doctorate in physical therapy with a certificate in Pilates. Along with yoga, Sarah is passionate about backpacking, camping and bringing any activity she enjoys to the outdoors.
To learn more about yoga at the Memorial Union or to sign up for an upcoming class, visit union.wisc.edu/yoga.