A Place to Grow: Lessons for a Lifetime
By Mason Muerhoff '18
Walking around the University of Wisconsin-Madison student organization fair in her high school band t-shirt in fall 2013, UW-Madison freshman Katy Lang wasn't sure what she was looking for in a student organization.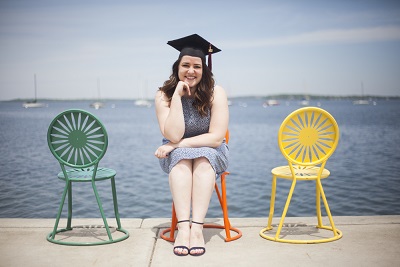 There was table after table of language study groups, a water polo club and soccer teams. It was, Lang said, overwhelming. But a Wisconsin Union Directorate (WUD) Music Committee member spotted her band t-shirt and brought Lang over to the WUD Music resource fair table.
During high school, Katy loved music classes and playing instruments, so she decided to give WUD Music a try.
"I started as a general member in the Music Committee," Lang said. "I remember not talking much. Everyone sounded so smart and cool, and I didn't feel like I knew enough to speak up in meetings."
But, in December of her freshman year, she booked her first show. And, in February of that year, she ran a show, on her own. Lang learned quickly, and started to love the music business.
"I originally planned on being a business major. But I switched to the Journalism School," Lang said. "It was a lot of bouncing around, but all I knew was that I wanted to be a part of this [the music industry]."
Lang started to spend a lot of time at Memorial Union as the months passed. She came to the building after class, before class, between classes and on weekends. In addition to being a place where she led, studied, and dined, the Union became a place where she worked; she soon started a job at Peet's Coffee in Memorial Union.
People became more familiar with her as she worked more often. She made friends with the regulars at Peet's, other committee members and coworkers. Her friends in the WUD Music Committee grew into her best friends, so much so that Lang, now a UW-Madison graduate, still lives with one of them.
It wasn't long before Lang pursued a leadership role within the committee she had grown to love. Her friends encouraged her to apply for the associate director position within the Music Committee. She took up the mantle her sophomore year. The next year, she became the director of the WUD Performing
Arts Committee. Plus, during her senior year, she joined the Wisconsin Union Theater as a team member responsible for helping book shows.
"I got to fill a 1,200-seat theater and run events. I got to book several shows a year," Lang said. "When I got to my job and told people about it, they didn't believe it. They didn't think that it was possible for someone in college to do all that."
Lang now works in Wausau, Wis., for the Grand Theater. She, in part, credits her experiences at the Wisconsin Union with her current career path and fearless pursuit of arts innovation.
"I think the greatest thing that the Union taught me was to have confidence in my own ideas, and it taught me to think in big, project-based ideas. I used to be analytical, and I think that limited the scope of possibilities when I was working on projects," Lang said. "But everyone at the Union, especially the professional staff, always encouraged and supported my projects and never shot down an idea."
To learn more about WUD and student leadership opportunities, please visit union.wisc.edu/wud.