Taste of the Union: Lasagna at Urban Slice
With an abundance of new foods available at Memorial Union, perhaps you've looked over new options at Union South. I know I did.
One dining location at Union South, Urban Slice, carries a wide variety of pizza and specials such as calzones, chicken parmesan and pasta dishes. I had previously tried almost all of these options, as Union South is a convenient place to eat between classes.
One item new to Urban Slice this school year is meat lasagna. When I heard about it, I had to see what it was all about.
I first asked the Urban Slice team member what she thought of the lasagna. Not only did she say it's one of her new favorites but also that the item has been increasingly popular since its debut.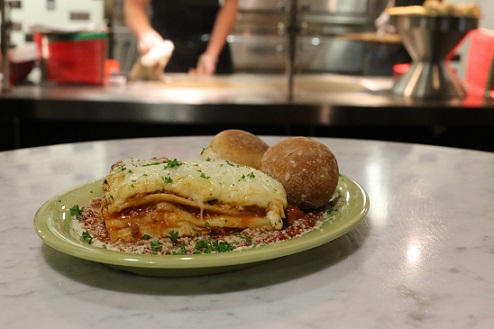 The dish comes with a generous portion of lasagna and two rolls. I dove in, and understood why it is a newly popular menu item. I come from a family of lasagna lovers, and this dish took me home. The red sauce wasn't too spicy, the meat was well seasoned and juicy, and the cheese was very complementary to the other flavors along with being velvety in texture.
The dish definitely left me satisfied and full enough to make it through the next six hours of class. The lasagna is $6.50, which I thought was a pretty reasonable price. I would definitely order this new item again, and recommend it to any Urban Slice-goers.
More information about Urban Slice, including business hours, is available at union.wisc.edu/urban-slice.