Behind the Scenes at the Union: Lance Raney
It's a Badger football home gameday and you're surrounded by a sea of red and white. "Build me up Buttercup" and "Sweet Caroline" blast over the loudspeakers. Bucky is busy posing for photo-ops, and the Spirit Squad is getting ready to cheer on the Badgers. I bet we can guess where you are.
Badger Bash has been one of the Wisconsin Union's greatest game day traditions for more than 40 years. And while you're busy tailgating your heart out, there are countless people behind the scenes who make this amazing event possible. Lance Raney is one of them.
What is your position at the Union?
I am the Union's sound and light engineer.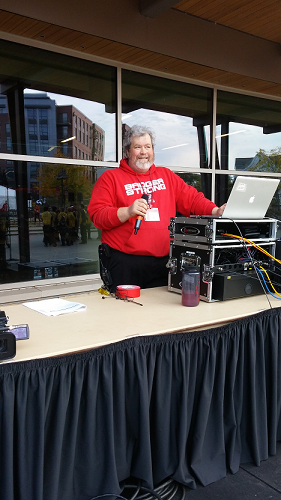 What does a typical Badger Bash day look like for you?
If it's an 11 o'clock game, I'm here around 4 or 4:30 a.m. to get started organizing gear and making sure everything is ready to go. My student employees show up around 5 a.m. to begin setting up the sound systems on the Union South Plaza in preparation for the events that start around 8:30 or 9 a.m. We also set up a second front-of-house area with mixing and music capabilities in the Sett, as well as TVs and speakers in the Sun Garden.
On the Orchard Street side of Union South, we set up a completely separate sound system for a band. This year, and over the last couple years, we've had WKOW as a sponsor, so I work with the sports director and he's the "party liaison" for the day. I provide commentary, and we work together to produce a really fun event. Once the tailgate and pregame parts are done, we make a transition into the Sett for the game watch party, where I DJ during commercials, make announcements, have fun with the crowd and try to give the stadium experience to those who aren't going to the stadium.
What led you work here at the Union?
I have had an interesting career. From college to work experience, I've always had a love for music and gear. I used to work at the two-year campus in Baraboo where I did AV and education learning support. I ended up working for some restaurants for a while because that falls under hospitality, and hospitality management is the other half of my life, having grown up in the Dells and owning family businesses. When I found the posting for this job, it sounded like a great experience and opportunity. I love working with students, and I didn't get a chance to do that much at Baraboo because it was such a small campus. It sounded like a great opportunity to take my work to the next level at a bigger school.
What has changed since you started at the Union?
The technological advancements we've made and the investments we've made to systems and lighting have changed a lot. Last spring, we upgraded and put 14 new moving headlights into the Sett, and we researched all the cutting edge technologies to keep up and know what direction we need to be going. What we've developed over the last several years is figuring out how to make Badger Bash a cohesive experience for those who join us.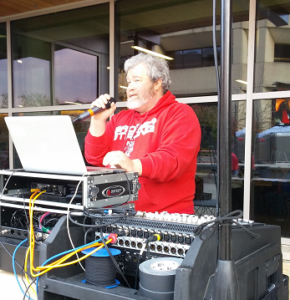 What's your favorite part of working at the Union?
What I love about the Union that you never know what the day is going to bring and what new idea the next student group is going to come up with for an event and how you can support them. It's awesome to getting to help and teach and advise them about the world of technology. We provide students with no experience until they become the ones who are advanced in technology. For me, students are number one. Without them, we don't exist as a community union. There's been at least four or five that have surpassed any of my technical skills, which is awesome because then I get to learn from them.
Outside of making Badger Bash and other Union events possible, Lance is an avid board-gamer, Star Wars Destiny competitor, dart-thrower and cat-rescuer.
To learn more about Badger Bash and other Union events, visit union.wisc.edu/events.