Behind the Scenes at the Union: Joe the Painter
Joe Padgham, known as "Joe the painter" around the Union, sits down to admire the 90-year-old ceiling of the Founder's Room in Memorial Union. He's dressed in white painter's pants and a white button-down shirt, speckled with paint and plaster. Joe is a defender of history, a champion of the cracked, faded and crumbling, and a historical conservationist in his own right. He appreciates detail. Joe is a painter by trade, but he is also a storyteller who works to keep the Union together – literally. He sat down with us to share his experiences and give us a special look into a day in the life of Joe the painter.
How long have you been working for the Wisconsin Union?
More than six years.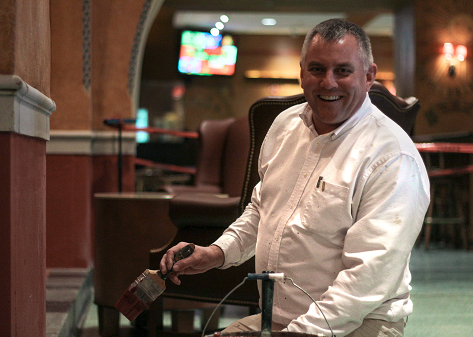 What is a regular day like in the life of Joe the painter.
We typically start between 6 a.m. and 6:30 a.m. Usually 6:30 a.m. to 9:30 a.m. is the window we have that we can be in the public areas, and we patch and touch-up areas. So, in the Union South building it would be the Sun Garden, Urban Slice, and that main thoroughfare. We try to get that done early, because it gets pretty busy. Then, we usually transition into meeting rooms and hotel room maintenance.
Do you typically work alone or with a team?
Creighton Hinkes is another painter at the Wisconsin Union. We pair up a lot or we'll do separate work in the building depending on the scope. We do have a tech maintenance team that works very well together so, if we have furniture to move or if there are electrical issues that need to be addressed, it's nice to be able to call someone who specializes in those areas to help us out.
What pieces or rooms in the building are your favorite?
I really love the older, historic nature of Memorial Union. I like to restore old things like woodwork and repair walls in the Stiftskeller and the Rathskeller. Favorite room? That's a tough question. I would have to say Memorial Union. I love parts of Union South, but this is my favorite. I have a lot of pride in the historic value.
At this point in the renovation, what has been the most rewarding project that you've worked on?
There were two. First, we were able to help a conservationist take the Paul Bunyan murals down.
But I think the Rathskeller project trumped that. We were able to work around the murals and preserve the original paint to make it look consistent and whole again. That project was, by far, my favorite.
Every day you work to maintain a piece of Wisconsin history. What does this mean to you?
It's cool. It's huge. I've worked in old churches, in the Capitol, and this is one of those buildings. It's an icon of the state. How do you tell someone about the intricacies of the colors on the wall? The details go on and on. They don't do that anymore. Look at this crown molding in the building. It's a bygone era.
Your work is a combination of creativity, maintenance and preservation. With this unique set of skills, how has your position in the professional world shifted?
I chose to do this when I was 18 years old. I went to college for a little bit. My parents pretty much told me to go to school and to not ever rule that out. I went into an apprenticeship instead because I was always very hands-on. It was just something I chose, and I love it.
Joe loves skiing, scuba diving and dogs. In his spare time, he enjoys boating, spending time with family, and volunteering on mission trips with his wife.