College is Hard – Finding a Job You Love at the Union Isn't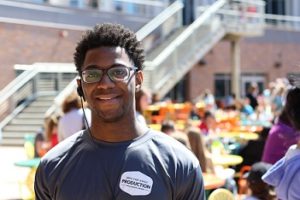 From studying to balancing a social life, from midterms to finals, college can be an extremely stressful time. At the Wisconsin Union, we know that finding a job that fits your schedule can be next to impossible, so we do our best to make student employment at the Union fun. We know you have choices when it comes to your student employment, but here are five reasons why working at the Union should be your top choice:
Flexible scheduling
We know that class schedules, extracurricular schedules and social schedules all intertwine to make student life hectic. Your classes may not have flexible timing, but your job at the Union will. We stand by our student employment perspective, which means that you are a student first and an employee second. Students are never required to work during school breaks or on holidays, and your job will be waiting for you when you return from studying abroad or taking a leave of absence.
Student Employee Advisory Group
Because your opinions are important to us, the Union's Student Employee Advisory Group (SEAG) is here to make sure that student employees have a voice. By holding open forums, SEAG works to gather feedback from students regarding how we can better serve you as employees. SEAG also holds student employee-exclusive celebrations, facilitates the employee of the month program, and often gives student employees coupons to enjoy food at the Union for free.
Work where you play
Where else on campus could you work where you can end a shift by rock climbing, grabbing a soda on the Terrace or creating a masterpiece at Wheelhouse Studios? The Union isn't just a great place to work – it's the hub of campus life and recreation.
Locations across campus
There's no denying that the UW-Madison campus is huge – but there are Union-affiliated places to work on campus outside of Memorial Union and Union South. From Badger Market locations in Engineering Hall and Medical Sciences to the Open Book Café in Helen C. White Hall, there are more than 25 locations across campus to work for the Union. No matter where you live or where your classes are, there is a location on campus that will fit your needs.
Variety of positions
We understand that just as people enjoy different hobbies, they enjoy different employment opportunities. With a wide variety of positions from barista to computer support to pizza-maker, there is bound to be something to suit your interests. Because of the diversity of positions offered, students walk away from their time working at the Union with a wide array of transferrable skills as well as great professional references from supervisors.
To find your favorite job ever, visit our jobs page.