Behind the Scenes at the Union: Chef Allison Berris
You have one amazing chef to thank for the delicious tomato bisque soup at Carte, the flavorful chili at der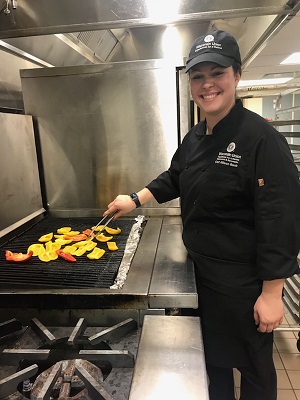 Rathskeller, the house-made salad dressings at Carte and der Rath and many more Memorial Union favorites. Let's get to know Chef Allison Berris.
What is your position?
I am the restaurants chef at Memorial Union. So, since September 2016, I've been in charge of prep for all of the [Memorial Union] restaurant units. Rathskeller, Stiftskeller, Strada, Carte, and, in the summertime, we do a few things for the Brat Stand, Lakeview Lounge and BBQ Stand.
How long have you been interested in cooking?
My whole life. My dad is a chef, so I grew up wanting to cook, and he taught me. The first thing he ever taught me to make was gazpacho. Ever since, I can remember this is all I've wanted to do
What is your favorite thing about this position?
My favorite thing about my job is teaching the [Wisconsin Union] student employees and watching them learn and grow. So many students with whom I work have never worked in a restaurant or in a kitchen ever in their lives. To see them thrive and grow, and to learn things like how to how to cook soup and how to make salad dressings is really amazing. Introducing them to new foods is also really rewarding.
In the summertime, I brought in fresh veggies, and it was really cool to see the reactions from students who had never tasted such fresh foods. Giving them new experiences and teaching them has been amazing.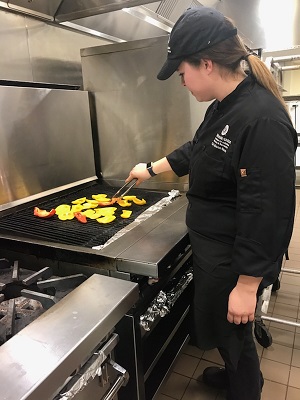 What does a typical day look like for you?
We have a prep list every day, so each unit puts its order in the night before, and I come in, look it over, and organize prep based on who's working. All the soups are my own recipes, so I'm usually the one who makes those. I also order new food to make sure we have enough for everything. Prep is the majority of my day.
What do you like specifically about working at the Union?
Definitely the sense of community. This semester, we've been a little short staffed in terms of students, and everyone has come together to help. Everyone wants to make sure we succeed. We've had Wisconsin Union team members outside of dining even volunteer to help us, and it's just great being together and working together. We truly are a team.
Outside of creating delicious menu items at Memorial Union, Allison is an avid farmers market-goer and the mother of Harrison, her 9-month-old son, who was introduced to the world of food at just 1-week-old. 
To learn more about Wisconsin Union dining options, visit union.wisc.edu/dine.