Our Gifts for Spring and Summer 2020 Graduates
When students begin their journey as University of Wisconsin-Madison students, they become temporary Wisconsin Union members. Their membership, which lasts as long as their time at the university, opens the door to recreation, out-of-classroom learning, leadership, professional development and a way to find community at the Wisconsin Union. Each year, when students graduate, they can purchase a lifetime Wisconsin Union membership for a once-in-a-lifetime discount.
This year, though, we and our friends at the Wisconsin Union Association decided to do something different. Spring and summer 2020 graduates are overcoming more than the usual hurdles to earn their well-deserved degrees. They are balancing rigorous coursework with the unanticipated, unprecedented challenges of a worldwide pandemic that caused classes to move to alternative delivery methods. They missed treasured traditions, like graduation photos on the big Terrace chair, and said goodbye far sooner and suddenly than anticipated to Madison and their friends.
In acknowledgement of the fortitude and resilience of these spring and summer 2020 graduates, the Wisconsin Union Association has offered these grads a free lifetime Wisconsin Union membership. This gift is a first in the Wisconsin Union's more than 110-year history.
"The trustees of the Wisconsin Union Association felt that lifetime Wisconsin Union memberships would be a lasting way to recognize the accomplishments of the spring and summer 2020 UW-Madison graduates," Wisconsin Union Association Chair Miguel Guevara said. "It also serves as a reminder that we will always have a seat for them on the Terrace."
The Wisconsin Union Association is a non-profit, educational corporation representing more than 100,000 Wisconsin Union lifetime members. Lifetime Wisconsin Union members also become part of the Association.
Wisconsin Union membership benefits include access to Memorial Union and Union South; a discount on stays at the Wisconsin Union Hotel and Club Suites, Sett Recreation rentals and activities, Wisconsin Union Theater events, Outdoor UW equipment rentals, and Wheelhouse Studios art classes; free gathering space rentals for personal special events; and more. All individuals, including those with no affiliation to the university, can purchase annual or lifetime Wisconsin Union memberships.
We, at the Wisconsin Union, will also provide spring and summer 2020 graduates with a gift: a free, mini Terrace chair. The chair is a small version of our iconic sunburst chairs that appear in our famous outdoor space, called the Memorial Union Terrace, each year. While Terrace season is on pause for now due to COVID-19, we hope to soon join together with these graduates, other Wisconsin Union members, and visitors at our buildings Memorial Union and Union South as soon as it is safe to do so.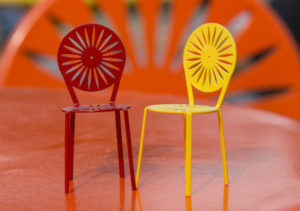 While our buildings are closed, we continue to serve members and visitors through online events and activities and some services, such as pick-up dining options.
"Our buildings are special places because of the people who make memories in them," said, Mark Guthier, associate vice chancellor for Student Affairs and Wisconsin Union director. "We look forward to the day we can all be together again and hope this chair serves as a reminder that we are still here for our community."
This gift is available to all spring and summer 2020 graduates, from those receiving undergraduate degrees to those who have earned the title of doctor. The Wisconsin Union membership team recently provided details about how spring and summer 2020 graduates can claim their membership and chair in an email to graduates.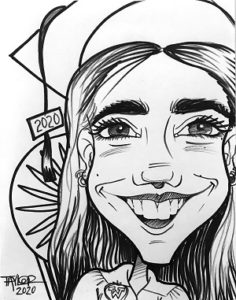 If you have any questions about these gifts or about becoming a Wisconsin Union member, please contact the Wisconsin Union membership team at membership@union.wisc.edu.
Our artists at Wheelhouse Studios are, additionally, offering spring 2020 graduates the opportunity to take part in an event, called Virtual Cappy Hour, during which the team is giving 150 graduates free caricatures of them wearing a cap and gown and sitting on a Terrace chair. More information is available here.
Our retail team has also curated three boxes of discounted Terrace collectibles with graduates in mind. We know how important, wonderful and unforgettable college years can be, and our team created these boxes to keep those memories with our grads no matter where they go in the world. You can learn more about the boxes here. On, Wisconsin!