Raising Up Black Voices with the 2nd Black Arts Matter Festival
While studying at the University of Wisconsin-Madison, Shasparay Irvin '20 felt that, as prevalent and valued as the arts are in Madison, there was a lack of diversity in the arts presentation that she saw.

Shasparay, a Black interdisciplinary artist and slam poet, resolved to change that. While completing her bachelor's degree in theatre and African American studies, she began an eight-month process to create an event series, called the Black Arts Matter (BAM) Festival. Shasparay created the series with this mission in mind: We intend to build a community around Black artistry by uplifting Black art and Black voices in white-dominated spaces.

"I decided to create this festival to prioritize Black voices in a predominantly white space, especially a white-centric arts space," she said.

The Festival debuted in Madison, Wis., with critical acclaim and strong community interest.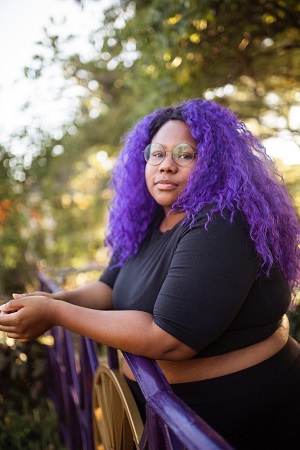 The Festival's Founder

Shasparay's journey to changemaker began long before she began studying at UW-Madison. In middle school, she already competed in public speaking competitions when she found slam poetry on YouTube. During a slam poetry contest, competitors perform original poetry, which judges rate. Drawn to this new-to-her form of art, she connected that she could use her already developing oratory skills to pursue spoken word poetry.

Her nana took her to a local slam poetry competition. Despite breaking into tears on stage and a score of five out of 10, then 14-year-old Shasparay knew she had found something special with slam poetry. She became determined to succeed. Today, she is a slam poet, a published author, and a poetry performance gold medal winner at the NAACP Afro-Academic, Cultural, Technological, and Scientific Olympics National Competition. She remains dedicated to supporting Black voices and art through the BAM Festival and aims to make the Festival an annual series.

Partnering for a Purpose

We are humbled and honored to share that this year, we, at the Wisconsin Union Theater, are co-producing the second Black Arts Matter Festival with the talented Shasparay. The Festival will include three events that showcase and promote Black art, on Nov. 5, 12 and 19. This year, the Festival will go global with virtual streaming available for free to all and will feature artists from around the country.

"I'm really excited about the opportunity to have someone share what's on their mind and heart through the Festival," Shasparay said.

The Second Black Arts Matter Festival
The 2020 BAM Festival three events will occur a week apart from each other, and will be available on our website, Facebook and Youtube. Click here to register to receive Festival updates and reminders.
The first performance on Nov. 5 at 6 p.m. CDT is a one-woman show featuring Ebony Stewart, a spoken word and performance artist, who will present "Ocean." The piece centers on the journey of maternal love, motherhood and womanhood. A live Q&A with Ebony will follow.
For the second performance on Nov. 12 at 6 p.m. CDT, Braxton Cook, a rising star in the jazz world, will grace us with a live concert, Q&A, and looping workshop. Looping is a bit of music that can be played in repeat. Expect some interactive, educational elements as part of his performance.
A poetry slam competition will round out the BAM Festival on Nov. 19 at 7 p.m. CDT. During the contest, eight poets will perform their work. The three artists who advance to the final round will each receive cash prizes.

Shasparay and the Theater team welcome all to attend the Festival events and watch these poets bring their work to life.

This series is made possible with financial support from Dane Arts, the Wisconsin Arts Board, the Joel Skornica Fund, the Frautschi Fund, and the Hodgin Fund as well as in-kind support from The Capital City Hues.
Acting Now and Committing to Change

While the decision to present this Festival occurred prior to the most recent uprising of Black Lives Matter, it is a small reflection of a promise by our team to support inclusion and diversity following the murder of George Floyd. This promise is being realized throughout the 2020-21 Wisconsin Union Theater season, which marks a new chapter where we will step forward and act on the vision to "inspire cultural curiosity, fuel creative expression, and expand the human experience," as explained by Wisconsin Union Theater Director Elizabeth Snodgrass. The full message of commitment to act and to make a change is available here.
Another upcoming event to look out for is Nicholas Payton, an artist who hates the word "jazz," though many people would describe his music as such. He believes that "jazz" is a co-opted word that whitewashes the history of music.
"By presenting Nicholas we have an opportunity to put that message out there and help people think differently," Snodgrass said. "Performing arts is not just entertainment, but it is an opportunity to help somebody expand what they already know. Human expression is at the very core of performing arts, and can lead to new perspectives and ideas to create a transformational experience."

The arts community is adapting to this ever-changing environment, and we are thinking about various programming modes in the virtual space. For more than 75 years, the Wisconsin Union Theater has been a center for cultural activity in the heart of campus, and we will continue to provide experiences for a lifetime for many years to come. We hope you will join us for the BAM Festival and other virtual events this season.

To support future efforts like the BAM Festival, please consider donating to the Wisconsin Union Theater Director's Fund, which helps the Theater provide high quality, diverse performances and ensures ticket prices are affordable for UW-Madison students. Click here to donate.