Behind the Scenes at the Union: Rob Gretzlock
For four and a half years, Rob Gretzlock has been an integral part of the dining team at the Wisconsin Union's Memorial Union. Rob first joined the Union's tradition of dining excellence as the manager of der Rathskeller. Today, he is the assistant director of restaurants at Memorial Union. Get to know more about the person you've likely seen dozens of times behind der Rath's counter.
What is your favorite thing about your position, new or old?
Students. I love working with students. I'm a teacher by trade. I graduated with a degree in education from Edgewood College, so being a teacher is the most important aspect of my job. A huge part of this job that I love is preparing our permanent staff for their next phase in life and giving our students life skills. The skills we can teach them and that they can take from here to utilize in their careers are immeasurable.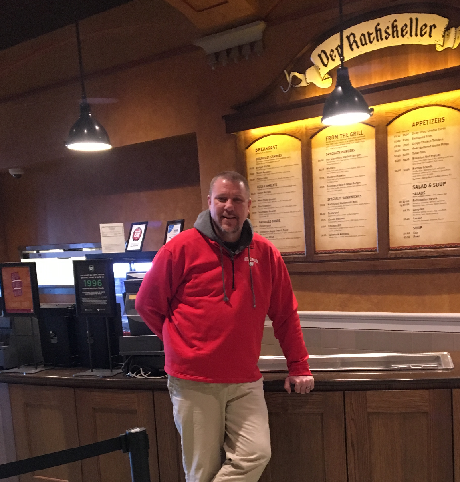 Do you work more with students than non-students?
In my old position, I worked very closely with all of der Rathskeller's student employees. I made it a habit to try and learn everyone's names, even though we probably had 250-300 students a year. In my current role, I still work with students but also work more with non-students. In my current role, I have the der Rathskeller, der Stiftskeller, Carte, Strada and Capital Café units underneath me now. That's what I'm responsible for, so now it's getting to know some of the students that work in those other units, as well.
What does a typical day look like for you?
That's the best part about the job. There is no typical day. Every day is different. Some days I get to be a teacher; some days I get to be a coach; and other days it's just helping the team find creative solutions to challenges that come with working in this profession. But every day that I get to be here is wonderful.
What do you like about working for the Wisconsin Union?
The atmosphere. After 25 years working in the private sector, this is the best move I could have made. The sense of family and the whole vibe of what this building brings to campus is great to be a part of. But, summertime on the Terrace…you just can't beat it.
When he isn't making sure dining operations at Memorial Union are running smoothly, you can find Rob spending time with his wife and four children, as well as bowling and playing softball with his longtime group of friends.
For more information about Wisconsin Union dining options, visit union.wisc.edu/dine.